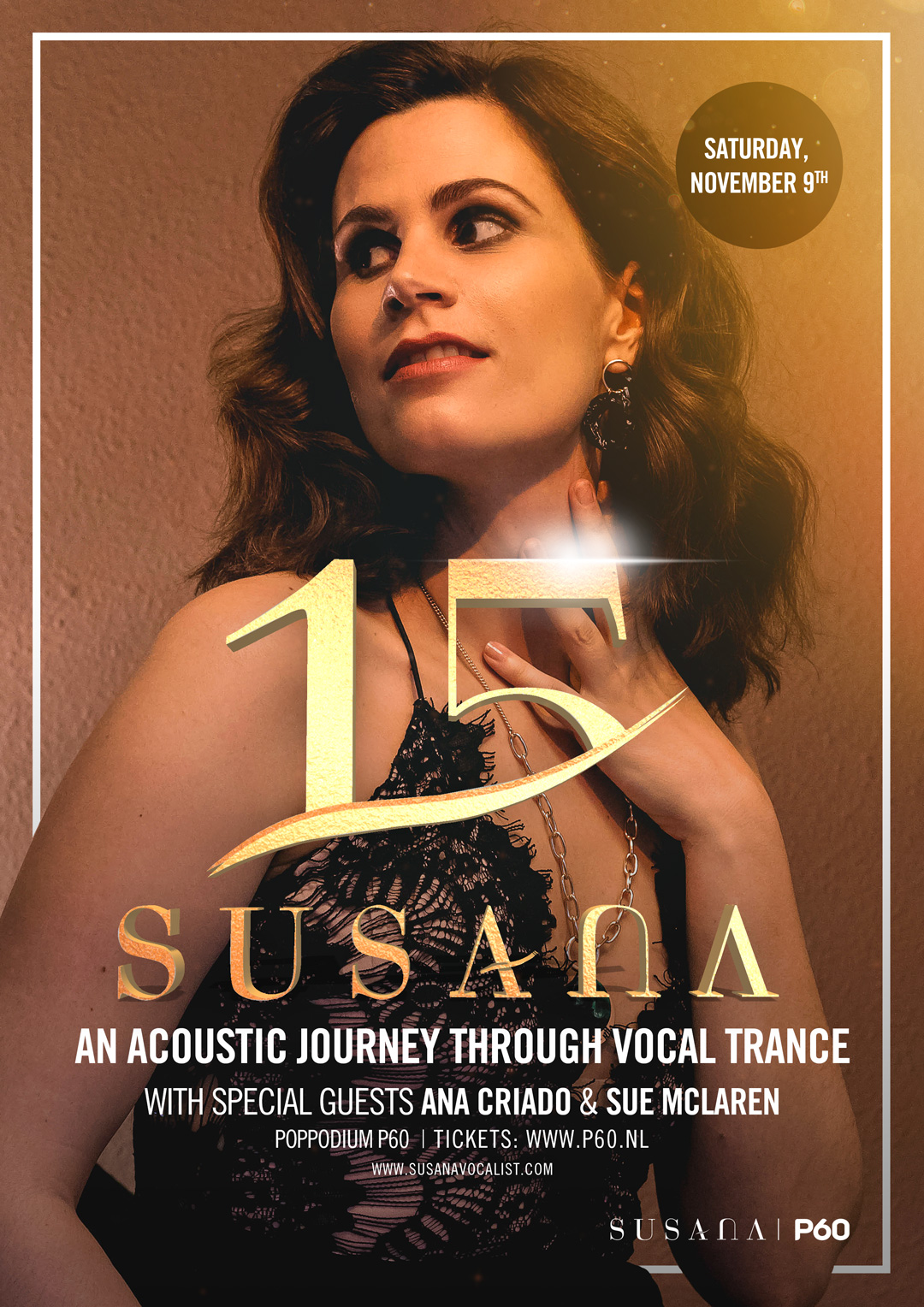 Susana celebrates 15th anniversary with 'Susana|15' live event!
In light of her 15th anniversary Dutch vocalist Susana – known for chart topping collaborations with Armin van Buuren, Aly & Fila, Dash Berlin, Markus Schulz, Ram and many more – embarks on a new adventure and presents Susana|15: a celebration of her career and an ode to the Vocal Trance genre. The event will take place in The Netherlands on November 9th 2019 at Poppodium P60 (Amstelveen).
Having travelled far and wide to perform for trance crowds all around the world, for this special occasion Susana is returning to her native country and reconnecting with her musical roots.
She invited some amazing musicians and fellow vocalists to join her and partnered up with concertpianist and composer Geronimo Snijtsheuvel. Geronimo will be working closely with Susana and the musicians as musical director of the event. Together they offer a unique and intimate live concert experience for true vocal trance lovers, showcasing their favourite Trance vocals in their purest form.
Join Susana as she'll take you on a trip down Vocal Trance memory lane with stripped down acoustic versions of her songs such as Shivers, Closer, Nothing at All, Ramelia and Only Summer Knows.
And there's more! It has always been Susana's mission to pave the way for vocalists as artists in their own right, instead of mere voices for hire in a DJ dominated dance music scene, so the event wouldn't be complete without guest performances by some of the genre's most beloved vocalists!
Dutch songwriter and vocalist Ana Criado (known for hit releases with Armin van Buuren, Alex Morph, Omnia and many more) as well as British songstress Sue McLaren (known for collaborations with Paul van Dyk, Aly & Fila and Andy Moor) will both be performing a selection of their songs in never before heard acoustic versions! 
It may be obvious that the event is set to be a unique experience for Susana's fans and vocal trance lovers in general. Special VIP packages are available for Susana's biggest fans.
!! Please read ticket info carefully below !!
TICKET & EVENT INFO
EARLY BIRD TICKET €22,- (excl. €1,50 admin costs) [SOLD OUT]

REGULAR TICKET €29,50 (excl. €1,50 admin costs)

VIP (add on) €50,00 (excl. €1,50 admin costs) Please read VIP TICKET INFO below!
Doors open 7.30pm. Concert starts 8.30pm till approximately 10pm.
For those of you with a VIP ticket there will be a hang out/meet and greet with me in the afternoon prior to the event. This hang out will take place  between 5-6pm at the venue. Read how to get a VIP add on below.
VIP TICKET INFO
A limited amount of VIP tickets are available as and add on to an early bird or regular ticket. VIP ticket includes a meet and greet/hang out with Susana, goodie bag and early access to the concert area.
PLEASE NOTE: the VIP ticket is an add on. To be able to access the event you will need to buy an EARLY BIRD or REGULAR ticket as well.
HOW TO PURCHASE A VIP TICKET: On Ticketmaster, after selecting an entrance ticket, you will be able to add the VIP package as an extra on the next page.
If you bought a regular ticket already and would like to add a VIP package you can do so by contacting Ticketmaster support here
TIME VIP HANG OUT: For those of you with a VIP ticket there will be a hang out with Susana in the afternoon prior to the event between 5-6pm at the venue. VIP guests will have early access to the concert area.
EVENT INFO
Click here for all general event details.
You can find all details about the VIP part of the event here.
GUEST VOCALISTS
Ana Criado / Sue McLaren
ALL AGES
The event is all ages. Minors under 16 should be accompanied by an adult.
WHEELCHAIR ACCESS
The P60 venue is wheelchair friendly (incl. elevators). Please email them minimum 24h in advance of the show so they can make sure someone will be present to assist anyone who arrives with a wheelchair. Email is: publiciteit@p60.nl. Don't forget to mention the name + date of the event.
VENUE DETAILS
Poppodium P60
Stadsplein 100a
1181 ZM Amstelveen, Netherlands (near Schiphol Airport and Amsterdam)
Website: P60.nl
FACEBOOK EVENT
RSVP to the Facebook event here for all updates (incl. line-up announcements, event info) and sneak peaks!
HOTEL
P60 has a deal with Grand Hotel Amstelveen.
€87,50 a night for a twin room including breakfast (on basis of availability)
Contact the hotel, explain which concert at P60 you are attending and that you'd like to book a room for the special P60 tariff.
More info (in Dutch)